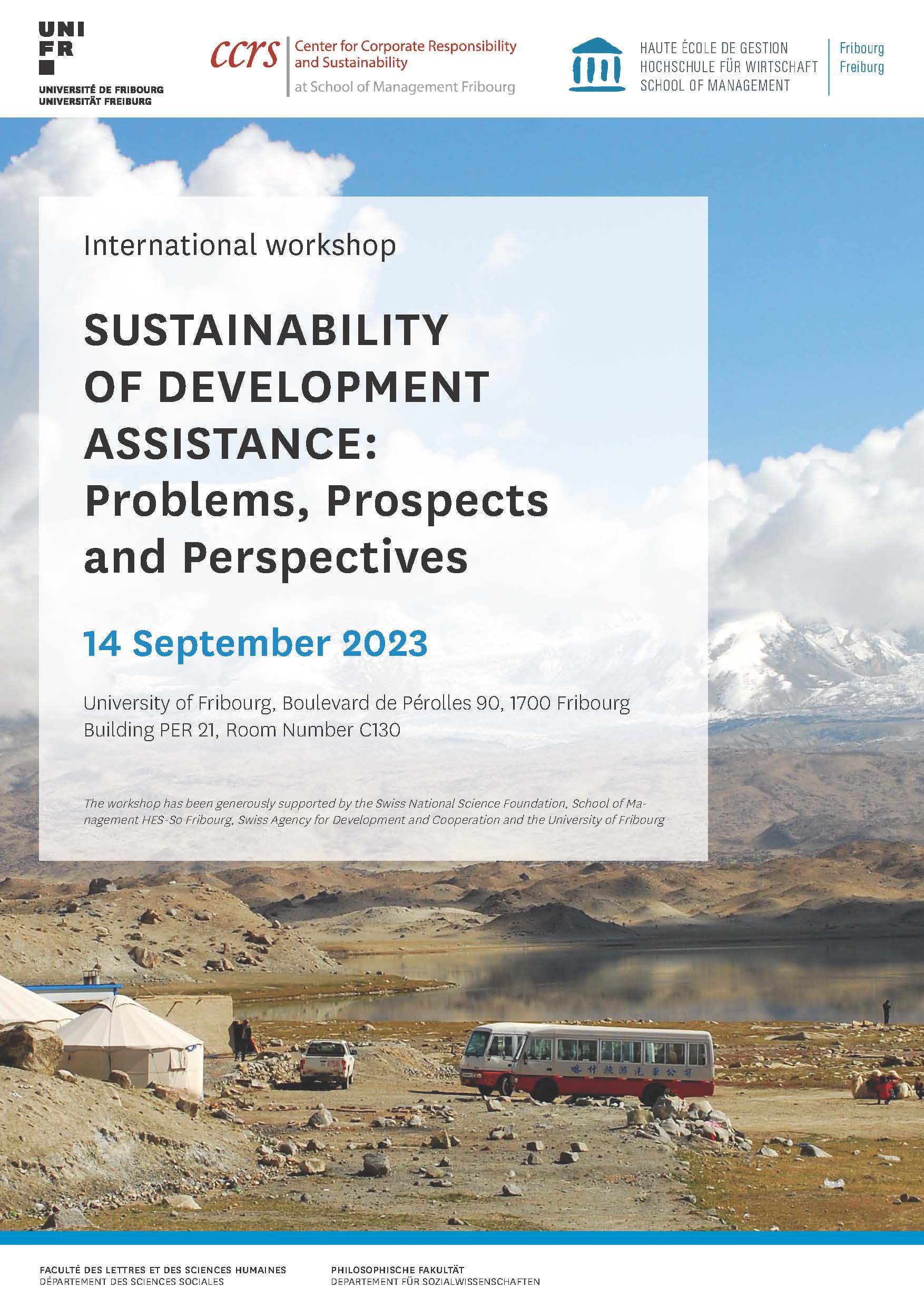 On September 14, 2023, the CCRS in collaboration with the University of Fribourg is hosting an international workshop "Sustainability of Development Assistance: Problems, Prospects and Perspectives". We will engage in critical discussions about institutional and social challenges that need to be overcome to enable sustainable and stable regional and local growth. In view of SDG goals set for 2030, the aim of the workshop is to explore policies and local solutions through which development assistance can effectively implement support for local businesses and enable change and jobs in areas that are affected by poverty and low development.
The workshop has been generously supported financially by the Swiss National Science Foundation, School of Management HEG-FR, Swiss Agency for Development and Cooperation (SDC) and the University of Fribourg.
If you want to attend the event online, please send your request to the organizer of the workshop Jovana Dikovic to jovana.dikovic[at]ccrs.ch.
If you would like to download the workshop brochure, please click here.
Workshop program
9.30 – 11 h  /  Opening the event
9.45 – 10.30 h Problems, prospects, and perspectives of development assistance
Debate Panel with Samuel Misteli (all participants) – Hybrid
10.30 – 11 h Catalyzing change

Roland Decorvet: "Impact Investing in Agribusiness in Africa"


Break


Panel 1, 11.15 – 12.45 h / Ownership and sustainability of development assistance
Moderator Jovana Dikovic
Ryan Briggs:
"Why Does Aid Not Target the Poorest?"
Pranvera Mucaj:
"Multi-Stakeholder Ownership and Sustainability in the Context of Development Projects: A Case Study of Kosovo"
Philipp Aerni:
"Principal-Agent Problem in Development Assistance"


Lunch break 12.45 – 13.45 h


Panel 2, 13.45 – 15.15 h / Accountability and sustainability of development assistance
Moderator Agnieszka Joniak-Luthi

Patrick Milabyo Kyamusugulwa:
"Practices and Outcomes of Social Accountability, Gender, and Power in Community-driven Reconstruction: Cases from the Eastern Democratic Republic of Congo" - online
Kamran Hakiman and Jeniffer Brick-Murtazashvili:
"Reimagining Participation in Development"
Philippe Foret:
"The Sustainability of China's Development Assistance (CDA)"


Break


Panel 3, 15.30 – 17 h / Correctives to development assistance
Moderator Till Mostowlansky

Toni Stadler:
"What Development Path for Kosovo?"
Lisa Marie Zammit:
"Towards More Effective, Inclusive and Sustainable Development Assistance: An Analysis of Approaches that Create Structural Change in the Food Sector"
Jovana Dikovic:
"Becoming an Entrepreneur through Development Projects: Lessons From Rural Kosovo for Preventing the Failure"


Break


Panel 4, 17.15 – 18.45 h / Enabling change: problems and opportunities
Moderator Hans Rentsch

Neha Yadav:
"Addressing Risk-Averse Practices in Development Assistance for Mountain Communities in the Indian Himalayan Region"
Fisnik Recica:
"The Impact of Development Assistance on Innovation of Small and Medium-sized Enterprises (SMEs) in Kosovo"
Pauline Koelbl:
"How Can Development Assistance be an Enabler of Private Sector Investment and Inclusive Markets Driven by Local Entrepreneurs"


Dinner 19 h
We are looking forward to your participation!

When?
14. September 09:00 - 18:45
Where?
Workshop Room Number C130
Building PER 21
Boulevard de Pérolles 90
University of Fribourg
Workshop supporters
Swiss National Science Foundation
School of Management HEG-FR
Swiss Agency for Development and Cooperation (SDC)
University of Fribourg