One of the bloodiest civil wars in recent years is taking place while the global community is barely taking notice. This information event intends to put light on the case by screening an independent documentary and letting experts to present their findings.
One of the world's most violent conflicts raged around the Ethiopian province of Tigray until November 2022. Even though the agreed ceasefire seems to be holding, the problems remain big and global attention is low. To raise awareness of what is happening in the region, this evening of film, panel discussion and a closing coffee ceremony, music and food was organised by the Tigray Community in Switzerland with the support of Konzeptbüro Rote Fabrik.
The event is in English.


Programme
16:00   Opening and Introduction
16:15   Film Documentary about Tigray Situation
16:45 – 17:00   Break
17:00   Presentations and Panel discussion / "Tigray, what happened and what's next?
       OPENING REMARKS: By Prof. Jan Nyssen


Prof. Jan Nyssen – Department of Geography Ghent University
Prof. Paul Slovic – Professor of Psychology and President of Decision Research
Prof. Thomas Cottier – Head of World Trade Institute, International Law expert
Dr. Hagos Abraha – Philologist University of Hamburg, Center for Study of Manuscripts
Dr. Charlotte Touati – Historian documenting GBV (Gender Based Violance) in Tigray
Prof. Scott Slovic – Professor of literature and enviroment & editor of Arithmetic of Compassion
        MODERATOR: Dr. Philipp Aerni – Director Center of Corporate Responsibility and Sustainability
19:00   A Cultural Evening / Coffee ceremony with Tigrayan music and food


The entry is free of charge.
Event poster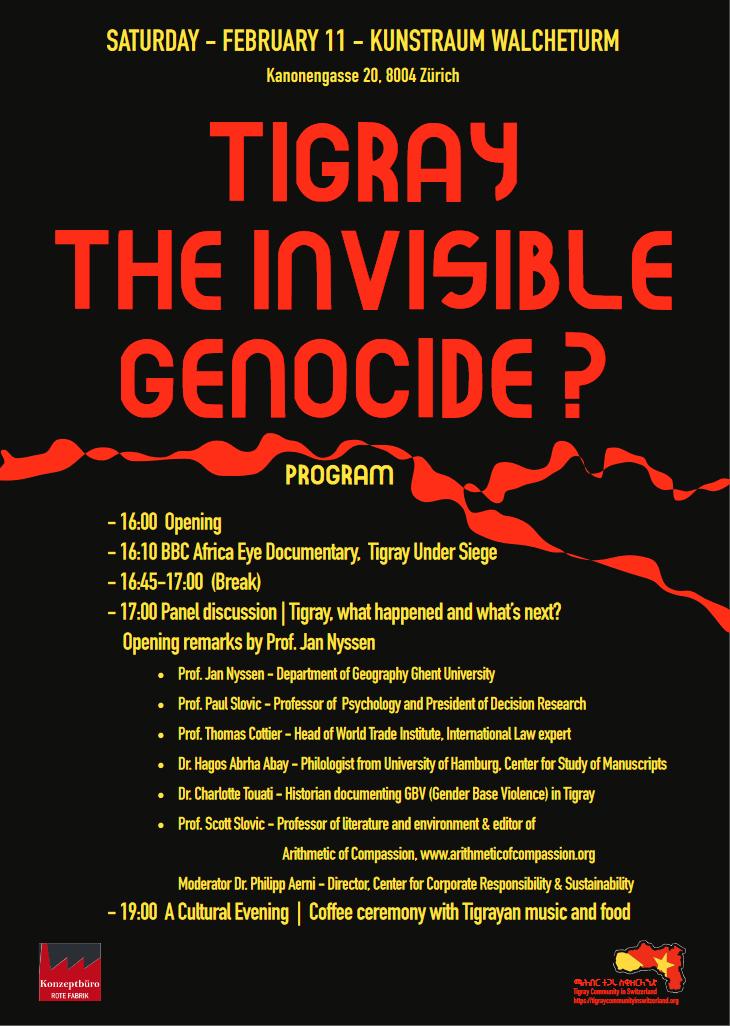 Related article
Analysis by Dr. Philipp Aerni in online newspaper Watson from October 2, 2022:
Tragödie am Horn von Afrika – und was die Schweiz damit zu tun hat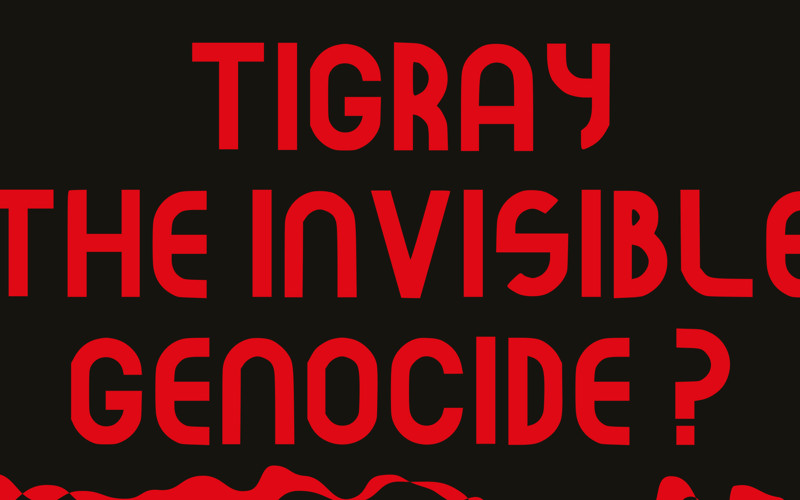 When?
Saturday, 11 February 2023
15:00 - 20:00
Where?
Kunstraum Walcheturm, Kanonengasse 20, 8004 Zürich