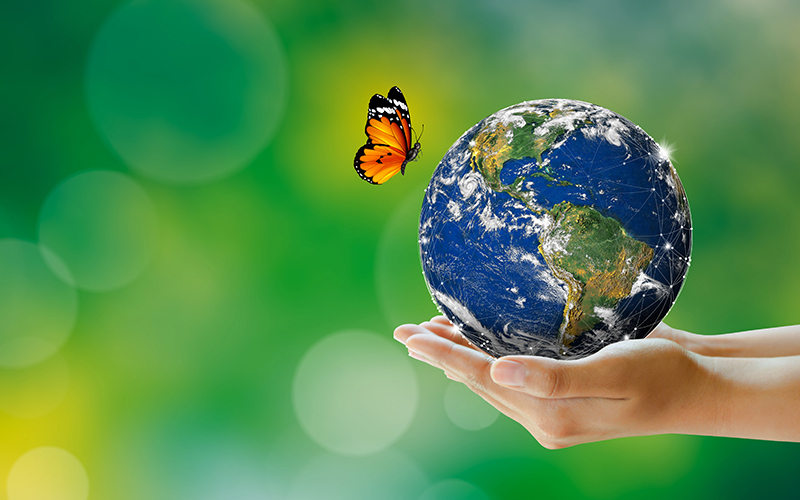 (English translation of quotes from swiss export director Claudia Moerker and CCRS director Dr Philipp Aerni, taken from the swiss export Journal from 29 September)
The swiss export association is a long-standing competence centre and trusted partner of the community of Swiss exporters, which has set itself the goal of mobilising SMEs with regard to the design of secure supply chains as well as sustainability and environmental protection along ESG lines. With their initiative «swiss ecomove», they are launching a long-term movement for sustainable entrepreneurship in cooperation with UBS, CCRS and other partners and offer the sustainability rating tool esg2go at special conditions.
Responsible action needs perseverance and openness
In the new quarterly issue of the swiss export Journal, Managing Director Claudia Moerker explains the background in the article "«swiss ecomove» - Improving environmental performance in SMEs":
    "In this way, we are pursuing the goal of ensuring that sustainability and environmental protection are also comprehensively reflected in SMEs and that companies can position and develop themselves successfully in the long term vis-à-vis customers, shareholders and employees.
    Customers are increasingly taking ESG criteria into account when making their purchasing decisions: Environmental factors (Environment), social aspects (Social) and corporate governance, which show how sustainable a company is. They want to know what kind of company they are doing business with. Acting responsibly also enables companies to hire and retain the best talent and build more trust with customers.
    There is currently a window of opportunity to take advantage of this situation. For companies, this is an opportunity to ensure that their quantified ESG profile is aligned with their values. Only then, when the time comes, can they stand up to scrutiny. To do this, companies need to collect the right quantitative and qualitative data to accurately demonstrate their commitment to sustainability and corporate responsibility. This cannot be done overnight. A meaningful responsible action programme takes persistence and openness."
Measure, compare and verify sustainability performance
CCRS Director Philipp Aerni contributed the lead article Sustainability as a success factor. Among giving attention to other aspects, he stated as follows:
    "Finally, especially in Europe, regulatory pressure in the area of the social dimension of sustainability will increase with the proposed EU directive on "Corporate Sustainability and Due Diligence". It calls for a reporting obligation for larger companies, which, however, refers to the entire supply chain. Export-oriented Swiss SMEs in particular will also be affected by this as suppliers to larger European companies.
    European companies. Increasingly, these are demanding a sustainability certificate that goes far beyond a code of conduct. However, the private providers of such expensive sustainability assessments have no incentive for uniformity in sustainability assessment, because they want to differentiate themselves. Thus, SMEs are faced with the problem that although concrete figures are now required, these do not necessarily increase credibility.
    A calibrated benchmarking system as a basis for measuring, comparing and verifying a company's sustainability performance could help in this regard. The associated rating and reporting tool would then be an integrative platform that does not replace the existing, but integrates it. By taking into account all dimensions of sustainability, it would also be in line with the spirit of the UN Sustainable Development Goals under the motto "People, Planet and Prosperity". After all, a company that invests in the environmental and social spheres (People, Planet) to the extent that it jeopardises the financial health of its core business (Prosperity) cannot be called sustainable either, because it must remain sustainable in order to have an impact."
esg2go-Spezialangebot
swiss export, together with ecomove main partner UBS, support internationally active SMEs in designing and implementing their sustainability strategy on the market. As they are convinced of the advantages of the esg2go platform for measuring, comparing and verifying the sustainability performance of companies, they are offering their swiss export members the esg2go rating tool at a special price of only CHF 100 for one year.

swiss export Journal issue 22Q4 "Sustainability as a success factor":
https://e-journal.swiss-export.com/archive/epaper-e-journal-04-2022/
esg2go special offer as part of the «swiss ecomove» initiative:
https://swiss-export.com/de/services/swiss-ecomove/esg-nachhaltigkeits-check/
swiss export Journal - 22Q4 - Claudia Moerker, Philipp Aerni and esg2go