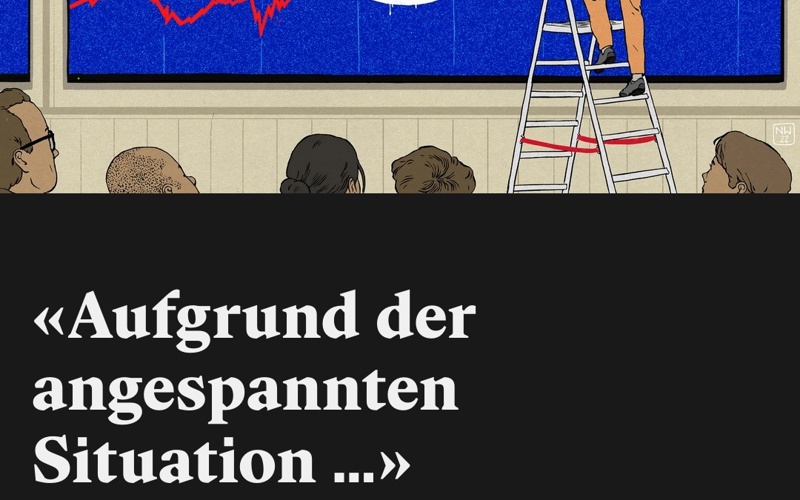 (English translation of the quotes by CCRS director Dr. Philipp Aerni from the article in REPUBLIK on 25.04.2022)
Philipp Albrecht, editor at REPUBLIK, an online magazine for investigative journalism, analysed in his latest article «Due to the tense situation ...» (original title: «Aufgrund der angespannten Situation …») boycotts by western companies of the Russian market.
Noticing the relative lack of explicit reasoning Albrecht questioned the underlying motives and business ethics. To further explore this context he also interviewed CCRS director Dr Philipp Aerni of the School of Management Fribourg.
Following excerpts of chapter '5. If anything, then consistently' which give account of Dr Aerni's responses:

The question arises whether corporate ethics that coincide with social values are necessary at all.

Conversely, this means: If a company becomes activist on its own initiative for ethical reasons, it must also stand by this. And be consistent. Like Ben & Jerry's.

In connection with the Russia boycotts, Philipp Aerni speaks of a "pseudo ethics of conviction" (original quote: (Pseudo-Gesinnungs­ethik") that has more to do with marketing and less with ethics: "As soon as the decision is made to withdraw, everything is wrapped up in a rhetoric of conviction that meets the expectations of the relevant moral stakeholders of the respective company."

In principle, however, he says, companies are better advised not to let themselves be guided too much by the ethical ideas of civil society.

Aerni refers here to the Canadian urban activist and non-fiction author Jane Jacobs, who has also dealt with business ethics and described a clear separation of two ethical systems in her book Systems of Survival in the early 1990s.

On the one hand is the so-called guardian syndrome of morality, which applies to government and civil society, and on the other hand the commercial syndrome of morality, which applies to business and science.

Guardian syndrome of morality is based primarily on traditional values and norms, while commercial syndrome of morality relies heavily on reliability, willingness to learn and the ability to change perspectives. Both systems aim for the greatest social benefit. Only they should not change places.

But according to Aerni, the doctrine of corporate social responsibility, of all things, does not make this distinction, since CSR implicitly assumes that there is only one morality, namely the guardian syndrome of morality. If this is imposed on entrepreneurial virtues, it could slow down innovation. Which is not very advisable.

Jacobs' theory, however, does not rule out the possibility that entrepreneurs have a vested interest in respecting human rights.

It is taken for granted today that top managers are concerned with human rights. But this also means that many have to do a balancing act between societal expectations and commercial syndrome of morality. Hence the cautious communication.


Link to the full original article:
https://www.republik.ch/2022/04/25/aufgrund-der-angespannten-situation

Treatise of the pivotal elements of the guardian syndrome of morality and the commercial syndrome of morality in this essay:
Aerni, P., 03 September 2021. Liberethica. Eine ganzheitliche Sichtweise der Ethik muss sich vom bi-polaren Denken verabschieden (Literally: A holistic view of ethics must say goodbye to bi-polar thinking)